This recipe is very popular in Greece at Easter and Lynne made it for lunch on Easter Sunday. It is really not very challenging to make. Do not scrimp on the herbs; they are what make this dish delicious. It is a very good recipe for vegetarians, but everyone seems to like it.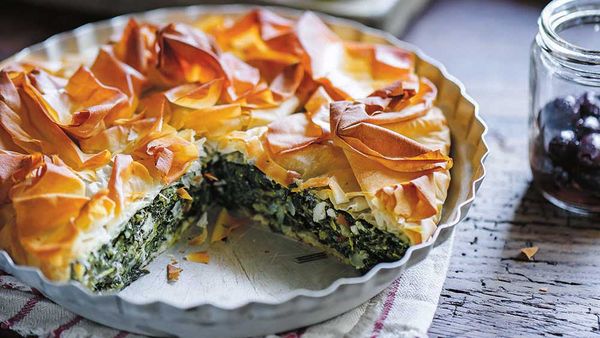 Image from The Dinner Ladies by Sophie Giliatt and Katherine Westwood (Murdoch Books)
750 grams fresh spinach (bagged prewashed is easier) - 20 grams fresh mint - 15 grams fresh dill - 4 or 5 spring onions - 200 grams feta cheese - 3 eggs - 250 grams filo pastry - olive oil - Sesame seeds
Heat your oven to 175°C
Microwave or steam the spinach until it is limp (3 minutes per bag). Allow to drain in a colander and when cooled, press out as much water as possible. Chop the spinach and put it into a large mixing bowl.
Chop the mint, dill and spring onions and add to the spinach. Crumble the feta cheese and add it. Crack the eggs into the mixture and stir everything together with a spoon until just combined.
Brush a 9x13 cm square pan or a similar sized round one with olive oil. Layer half the packet of filo pastry in the pan, turning each one about 30 degrees from the last one, brushing each layer lightly with olive oil on one surface.
Spread on the spinach mixture evenly and then fold the sides in to the centre. Brush each layer of the remaining filo with olive oil and slightly scrunch them up as you layer them on top of the spinach mixture, so you have no overhanging pieces of filo. Sprinkle with sesame seeds
Bake in the oven for about 35-45 minutes until the top is golden brown and crisp all over. Cool for 10-15 minutes before cutting into serving-sized pieces. Serve with thick full fat plain Greek yoghurt
All content © John & Lynne Ford, Adamastor & Bacchus